In the vibrant tapestry of Indian cuisine, one dish that stands out for its rich flavors and delightful textures is Dal Bati. This iconic Rajasthani dish combines crispy baked wheat balls (bati) with a luscious lentil curry (dal). The result is a heavenly fusion of spices and aromas that will transport your taste buds to the heart of Rajasthan. In this comprehensive guide, we will take you on an epic journey through the creation of this delectable dish, ensuring that you achieve the perfect Dal Bati experience.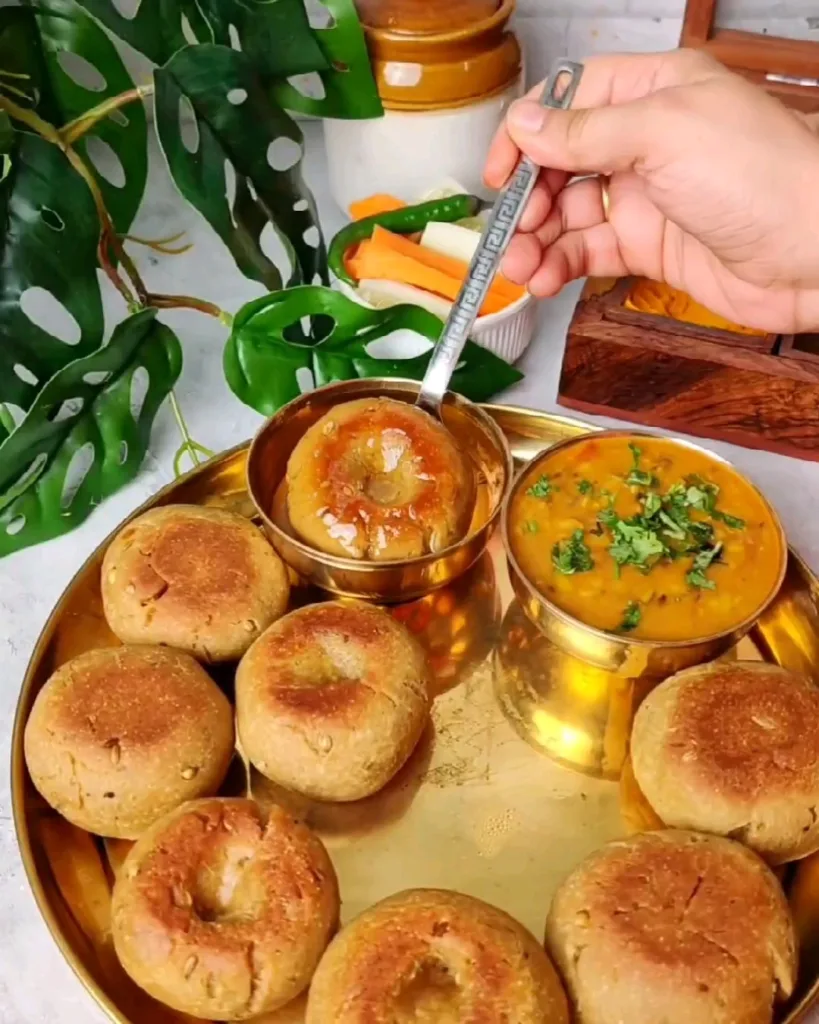 Table of Contents
Dal Bati Recipe
Unveiling the Essential Ingredients
For Bati:
Wheat Flour – 2 cups
Sooji (semolina): 1/4 cup
Besan (grain flour): 1/4 cup
Coriander Seeds (crushed) – 1 tsp
Fennel Seeds (crushed) – 1 tsp
Ajwain (Carom Seeds) – 1 tsp
Turmeric Powder: 1/2 tsp
Baking Soda: 1/2 tsp
Salt: To Taste
Ghee (Clarified butter): 3 tbsp
Water
For Dal:
Green Moong Dal, 1/4 cup
Toor Dal: 1/4 cup
Masoor Dal: 1/4 cup
Chana Dal: 1/4 cup
Salt: To Taste
Ghee, 3 tbsp
Cumin Seeds: 1 tsp
Asafoetida, 1 tsp
Red Chilli: 4 (adjust to your spice preference)
Onion: 1 (chopped)
Ginger-Garlic Paste: 1 tsp
Coriander Powder: 2 tsp
Garam Masala Powder: 1 tsp
Kashmiri Chilli Powder: 1 tsp (for color)
Red Chilli Powder: 1 tsp (adjust to your spice preference)
Turmeric: 1 tsp
Tomato: 2
Fresh Coriander Leaves: For Garnish
Crafting the Perfect Bati
Prepare the Dough: In a mixing bowl, combine wheat flour, sooji, besan, crushed coriander seeds, crushed fennel seeds, ajwain, turmeric powder, baking soda, and a pinch of salt. Mix these ingredients thoroughly to create a harmonious blend of flavors.
Add Ghee: Gradually introduce 3 tablespoons of ghee into the mixture. Ensure that the ghee is evenly distributed, giving the dough a rich, buttery aroma.
Knead the Dough: As you knead the dough, slowly add water until it reaches the desired consistency—firm yet smooth. Cover the dough with a moistened cloth and allow it to sit undisturbed for 30 minutes. This resting period allows the ingredients to meld, enhancing the final flavor.
Shape the Bati: Divide the dough into equal portions and roll them into round balls. To create the traditional bati shape, gently flatten each ball.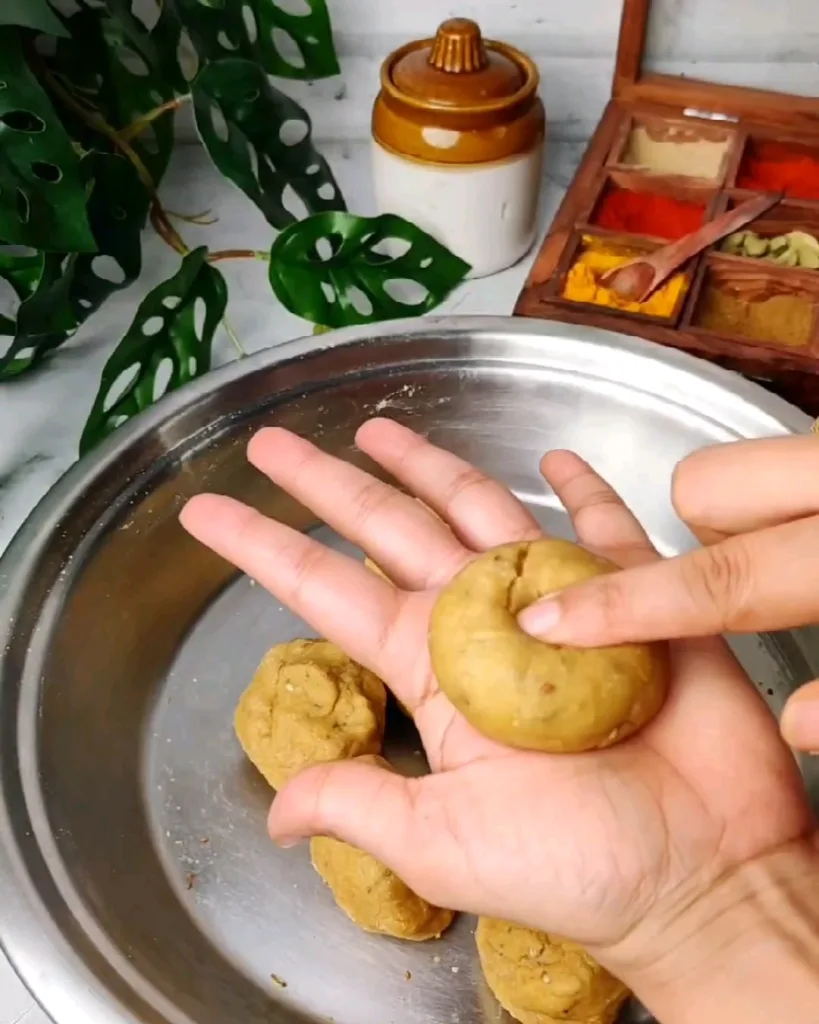 Bake to Perfection: Preheat your oven to 180°C (350°F). Place the batis on a baking tray and bake for 25–30 minutes, or until they acquire a golden brown hue and a satisfying crispiness.
Crafting the Irresistible Dal
Clean and Wash the Lentils: Begin by thoroughly rinsing the green moong dal, toor dal, masoor dal, and chana dal. Soak them in water for about 30 minutes to enhance their tenderness.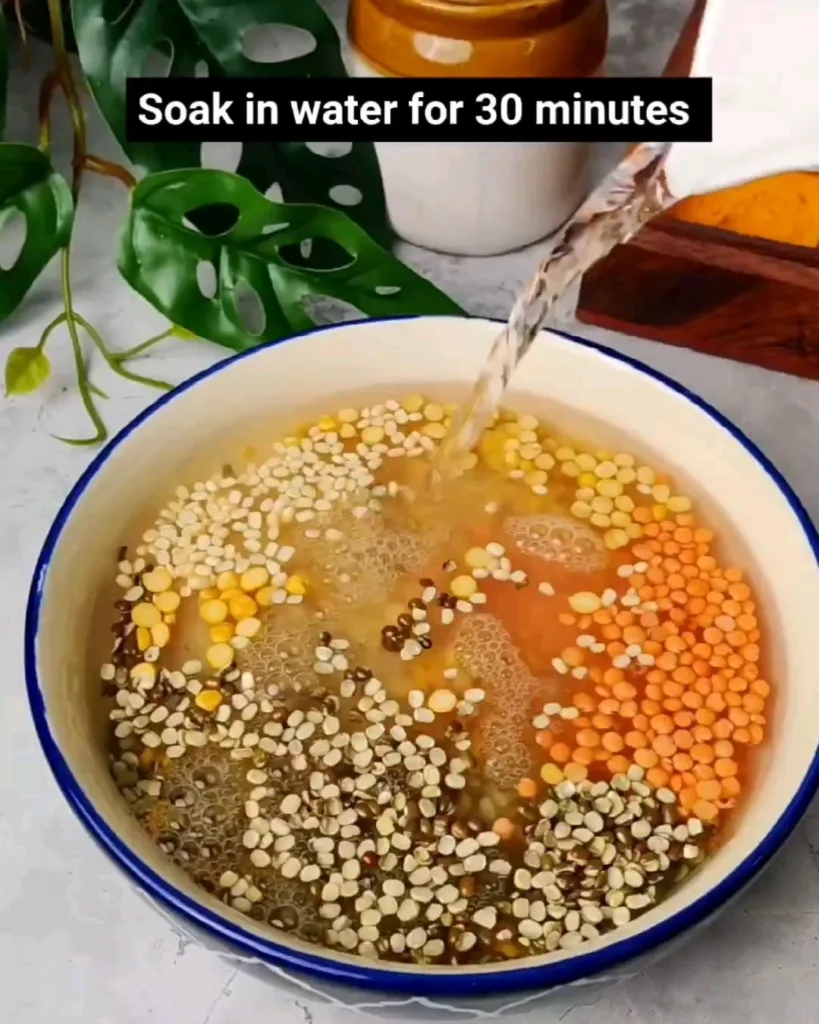 Cook the Lentils: In a pressure cooker, add the soaked lentils, a pinch of salt, and enough water to submerge them. Pressure cook for 3–4 whistles, or until the lentils are soft and perfectly cooked.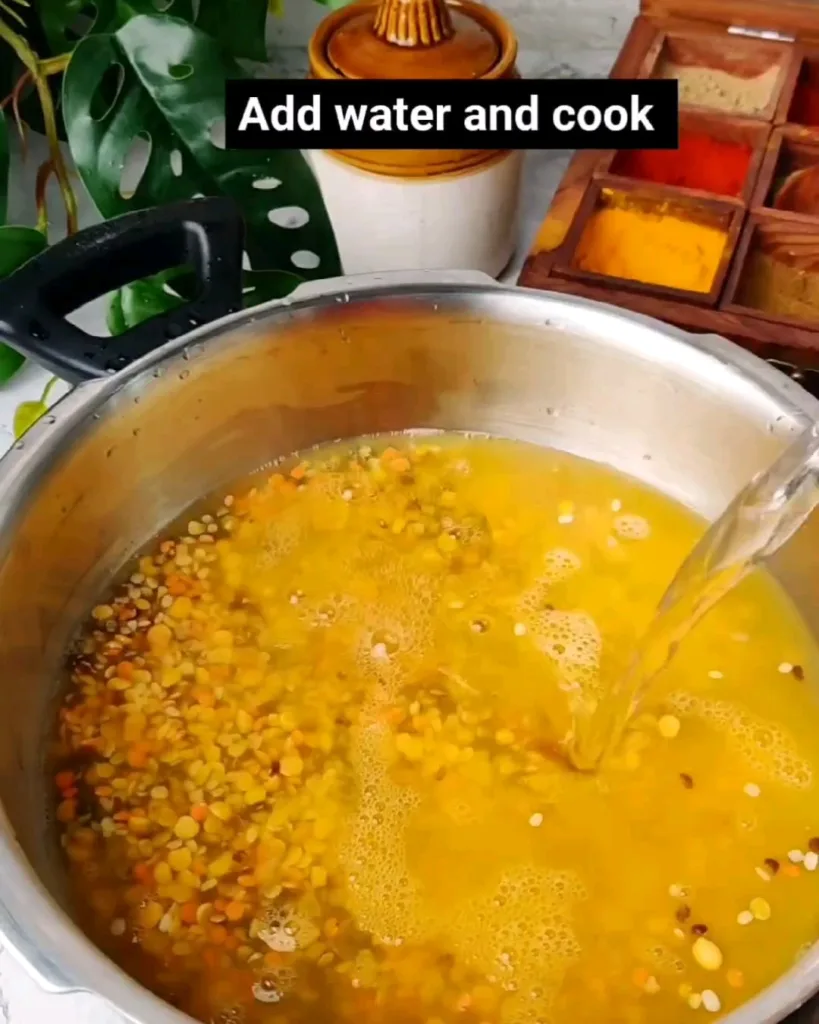 Prepare the Tadka (Tempering): In a separate pan, heat ghee and add cumin seeds. Let them sizzle, releasing their delightful aroma. Then, add asafoetida, red chilies, and chopped onions. Sauté these ingredients until the onions turn a delightful golden brown.
Infuse with Spice Powders: Stir in ginger-garlic paste, coriander powder, garam masala powder, kashmiri chili powder, red chili powder, and turmeric. Cook for a few minutes, letting the spices release their captivating aroma.
Add the Tomatoes: Introduce finely chopped tomatoes to the mix and cook until they turn into a flavorful mush, and the ghee begins to separate.
Harmonize with the Lentils: Now, add the cooked lentils to the pan, merging them with the tempered spices. Simmer for 10–15 minutes, allowing the flavors to unite harmoniously.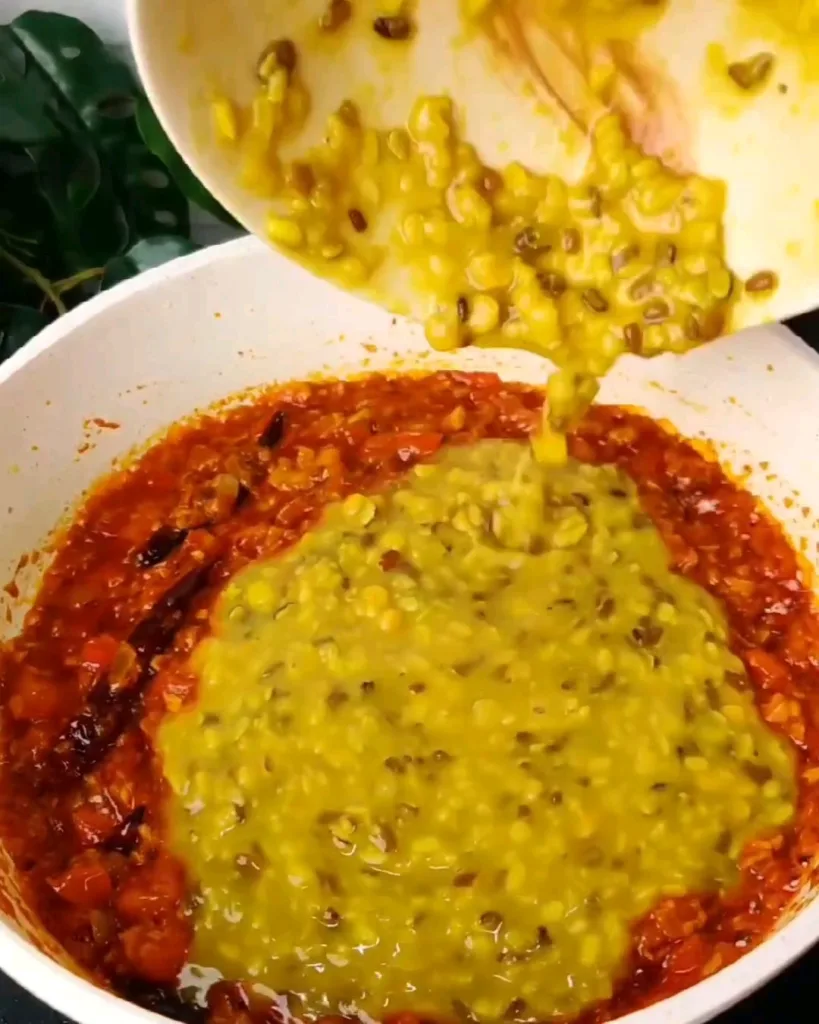 The Art of Serving Dal Bati
To serve this culinary masterpiece, place the hot batis on a plate, generously pour the steaming dal over them, and crown the dish with freshly chopped coriander leaves. The result is not just a meal; it's a sensory journey through the vibrant flavors of Rajasthan.
Conclusion: A Flavorful Adventure Beckons
Dal Bati is more than a dish; it's a culinary adventure that invites you to explore the heart of Rajasthan. This recipe empowers you to recreate the magic of this traditional masterpiece in your own kitchen. With crispy batis and flavorful dal, your taste buds are in for a treat. Gather your ingredients, embark on this flavorful journey with Dal Bati today, and watch as your family and friends thank you for the unforgettable experience.