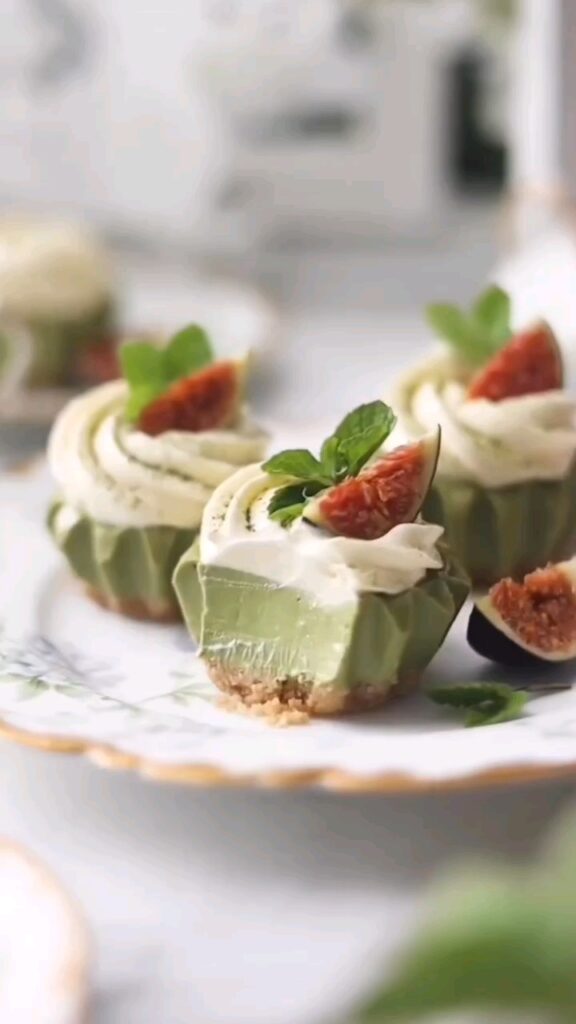 Indulge your taste buds with a delightful and dairy-free dessert that combines the richness of cheesecake with the earthy allure of matcha. This Matcha Cheesecake recipe offers a flavorful treat that caters to both your sweet tooth and dietary preferences. With a luscious coconut whipping cream base and a velvety matcha-infused filling, topped with a cloud of white chocolate whipped cream, this dessert is a culinary masterpiece that's both Straightforward to create and a delightful treat for your senses.
Table of Contents
Matcha Cheesecake Recipe
Ingredients:
60g of your favorite cookies or biscuits (store-bought or homemade)
30g of melted dairy-free butter
60g of coconut whipping cream
120g of dairy-free cream cheese
45g of your choice of sugar
1 teaspoon of vanilla extract
6g of matcha powder (mixed with 3 teaspoons of water)
For topping: White chocolate whipped cream
Base:
Begin by crafting the foundation of your Matcha Cheesecake. In a food processor, crumble 60g of your preferred cookies or biscuits until they transform into fine crumbs. Introduce 30g of melted dairy-free butter to the mix and pulse the ingredients until they coalesce into a cohesive mixture. Firmly press this amalgamation into the base of your cupcake liners. To allow the base to set, place the cupcake liners in the freezer.
Filling:
The heart of this Matcha Cheesecake recipe lies in its sumptuous filling. Commence by beating 120g of dairy-free cream cheese, 45g of your chosen sugar, 1 teaspoon of vanilla extract, and the dissolved matcha powder (created by blending 6g of matcha with 3 teaspoons of water) on a medium speed. Continue until the mixture reaches a flawlessly smooth and creamy consistency. To ensure an even texture, intermittently employ a rubber spatula to scrape down the sides and bottom of the mixing bowl. Subsequently, introduce 60g of coconut whipping cream to the mixture and whisk until any lumps are obliterated and the mixture attains a smooth uniformity.
Assembly and Refrigeration:
With the filling perfected, it's time to assemble the Matcha Cheesecake. Spread the exquisitely smooth filling over the prepared crust, ensuring an even distribution. Refrigerate the assembled cheesecakes for a minimum of 8 hours, allowing ample time for the flavors to meld and the dessert to set into a delectable treat.
Topping:
To elevate the indulgence, prepare the white chocolate whipped cream topping. This luxurious addition will crown your Matcha Cheesecakes with an irresistible touch of sweetness. Gently pipe the white chocolate whipped cream onto the chilled cheesecakes, adding a visually appealing flourish that complements the green hue of the matcha.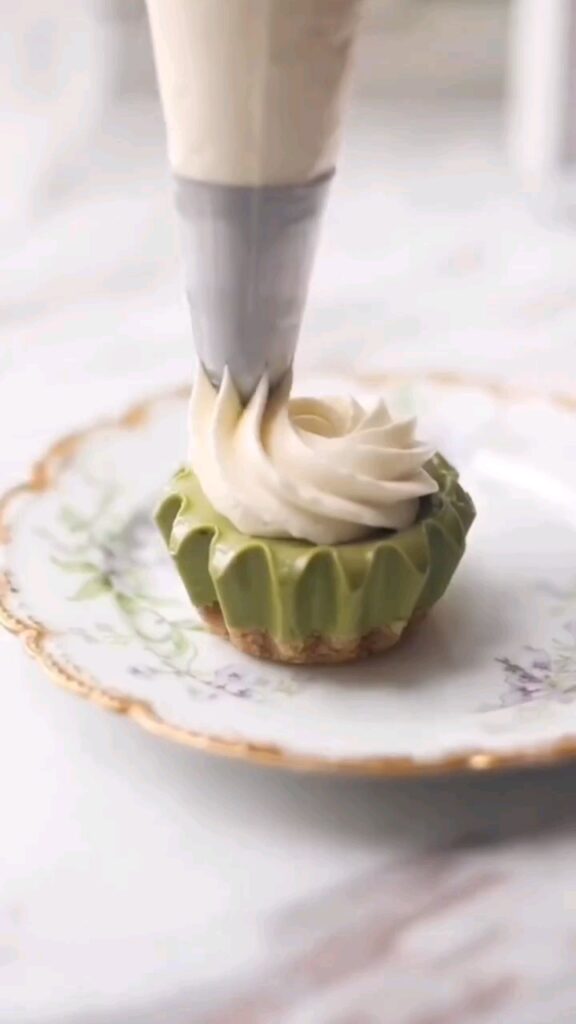 Presentation:
The final result of your culinary endeavor is a batch of Matcha Cheesecakes that not only captivates the eyes but also tantalizes the taste buds. Each bite is a symphony of textures and flavors, with the smooth and creamy matcha-infused filling harmonizing with the crisp cookie base. The white chocolate whipped cream topping imparts a velvety richness that perfectly complements the earthy notes of matcha.
Whether enjoyed as a personal treat or shared with friends and family, these dairy-free Matcha Cheesecakes are a testament to the harmonious fusion of taste, aesthetics, and dietary inclusivity. The dessert embodies a balance of flavors that is both sophisticated and satisfying, making it a delightful addition to any dessert repertoire. So, embark on this culinary journey, embracing the artistry of flavors and textures, as you create a masterpiece that is sure to leave a lasting impression on all who partake.
Matcha Cheesecake Nutrition
Still, please note that these computations are grounded on general nutritive data and may not be entirely accurate due to variations in component brands and medication styles. Then is an estimate of the nutrition information per serving, assuming the form yields 6 servings
Base
eyefuls/biscuits (60 g) Calories
260 kcal, Carbohydrates
32g, Fat
13g, Protein
2g
Filling
Dairy-Free Cream rubbish (120 g) Calories
240 kcal, Carbohydrates
8g, Fat
24g, Protein
4g
Sugar( 45g) Calories
180 kcal, Carbohydrates
45g, Fat 0g, Protein 0g
Coconut trouncing Cream (60 g): Calories
150 kcal, Carbohydrates
3g, Fat
16g, Protein
1g
Matcha Powder( 6g) Calories
10 kcal, Carbohydrates
2g, Fat
0g, Protein
0g
Beating
White Chocolate Whipped Cream(quantity not specified) Calories and nutrition values will depend on the volume used.
The total nutrition values for the entire form will be the sum of the values for the base, filling, and beating factors.